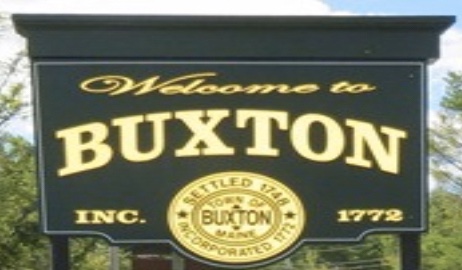 The following is taken directly from The Town Register Gorham and Buxton 1905 compiled by Mitchell, Daggett, and Bassett.
1740
Settlement began about this time.
1743
Garrison house erected at Salmon Falls on account of Indian troubles. First meeting house erected.
1744
Rebecca Chase (m Parker) born, first white child born in Buxton
1749
Settlement greatly revived.
1754
Fort erected at Pleasant Point.
1761
Old burying-ground on the meeting-house lot conveyed to the plantation by Isaac Hancock. First public school opened.
1764
Effort made to have the town incorporated.
1772
Act incorporating Buxton, the seventh town in Maine, passed July 17. First election held in Meeting house May 24, 1773.
1785
Great freshet destroyed by mills and bridges.
1792
335 Polls intown over age of sixteen.
1795
First mills built at Moderation Falls.